One Suicide is One Too Many
Our Mission is One Suicide is One Too Many
Leaving the Sideline is a Veteran owned and operated 501(c)(3) located in Washington State. We emerged in 2020 with a mission to support veterans, first responders, and their families in conquering significant challenges such as suicide, PTSD, depression, anxiety, TBI, and more. Dedicated to serving our heroes, we work relentlessly to guide them and their families to the resources and outreach they need thus, alleviating the burdens faced by families, striving to prevent the hardships endured after the loss of a loved one. Join us in our commitment to making a positive impact on the lives of those who bravely serve our communities and nation.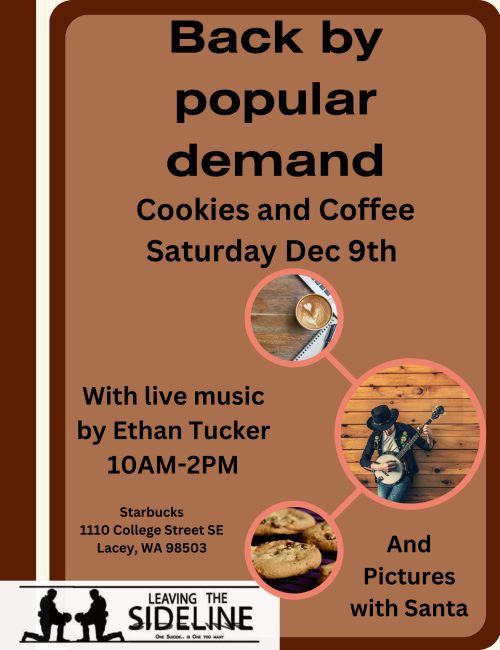 Come together and share some coffee, cookies, conversation and great times. We have live music from Ethan Tucker and pictures with Santa and Mrs. Clause. Come out and enjoy some family time with us. We look forward to meeting you all.
We are looking for individuals who are caring, have compassion and want to create a community of comradery with all those we are helping.  Sounds amazing, right?  Click the button below to join us today!
We are strictly a volunteer force of Retired Military, First Responders and Military Spouses looking to save one life at a time because one is one too many. Click below and donate today!
Business looking to donate goods, services and spaces for our organization to use is always extremely appreciated. We say thank you in advance.  Please consider helping our cause by clicking the button below to see how our organization can work with your business to help save lives today!
Fundraising for the people and causes you care about
All of our funding goes back directly to the Veteran, First Responder or Active Military Personnel who is seeking help.  Our volunteers are people who care for those that have put their lives on the line.